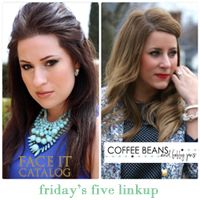 I have the extreme honor of having my blog mentioned on
Coffee Beans & Bobby Pins Friday Five!
Amy of Coffee Beans & Bobby Pins listed my blog and my
Feel the burn: Week 1
post, on a blog link share! Basically really fantastic way of networking and getting introduced to some pretty fabulous bloggers!!
I have to say I feel so honored and slightly giddy inside... Thanks Amy! I appreciate it... if you haven't checked out her blog and all the other fabulous ones she listed, you should! She does a new "link up" from Friday - Wednesday and then list's the top five on Friday! Check her out, you wont be sorry! In the meantime, I'll be over here trying to be cool and failing miserably... time to get my jaw off the floor...
OMG
...